News Detail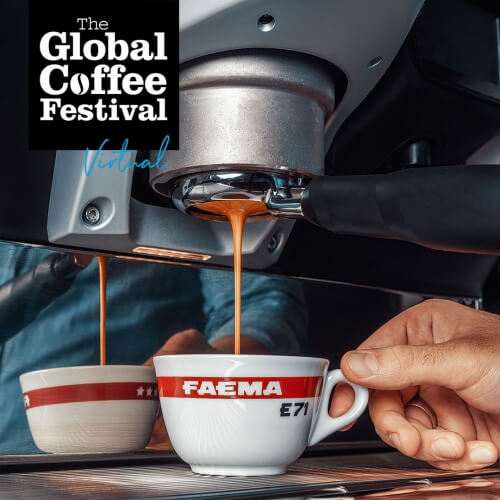 PROFESSIONAL
Online - 30.10.2020
Global Coffee Festival
Join us for The Global Coffee Festival!
Discover all the events that we have organized for you to celebrate coffee.
FRIDAY OCTOBER 30
Don't miss out on the first day, featuring 12 hours of live online content from 12 cities around the world: over 30 virtual and international events available for streaming on 30 October 2020 and also available on demand in the following days via the TV GCF platform.
The contents will be divided into 10 themed channels: Coffee Roots, Coffee Cities, Coffee Business, Home Rituals, Showtime, The Review, The Lab, Coffee Mixology, Beyond Coffee and Channel Sustainability.
Coffee Roots
(14:15 GMT+1)
On the Coffee Roots channel, you can embark on a real journey into the world of Gruppo Cimbali, in collaboration with the Specialty PaL coffee influencers.
• It starts from Mumac - Museo della Macchina per Caffè, Gruppo Cimbali's museum, to discover the history and technology of some of our most important machines, including the Faema TRR and the E61.
• The journey continues with the MUMAC Coffee Academy: you can follow a simulated training session with a focus on latte art and the process of setting up our machines and our Sensory room.
• We end in style with a visit to the Faema Flagship Store in Milan to see our machines in action in a cool location.
Coffee Business
Tune in to the Coffee Business channel, which we are sponsoring, and watch the interviews with key figures in the industry.
• (09:30 GMT+1) Interview with our Chief Commercial Officer Enrico Bracesco.
Coffee Cities
Our Faema Flagship Store has been selected as one of the unconventional locations in Milan dedicated to coffee.
Our Chief Commercial Officer Enrico Bracesco will talk about this special place.
The Review
(15:45 GMT + 1)
"Same coffee, different espressos: preinfusion control with Faema E71e": on The Review channel, sponsored by Brita, MUMAC Coffee Academy Trainer Alessandro Giammatteo will demonstrate how the Faema E71E works.
[FRINGE EVENTS]
The Global Coffee Festival doesn't end in just one day!

The 31 October and the 1 November, the appointment is with Fringe Events: you can access the videos of our trainers, our partners and coffee gurus around the world who will tell us curiosity, trends and tips on coffee and Faema equipment. The contents will be uploaded to Faema's official YouTube channel www.youtube.com/FaemaOfficial
SATURDAY OCTOBER 31ST
(11:00 GMT + 1)
From the Flagship Store in Milan we will be with Chiara Bergonzi for a Latte Art session in collaboration with Alpro on the Faema President Gti.
(16:00 GMT + 1)
From our US branch, follow Noah Goodman along with bartender and latte artist Daniel Lee. You can attend Latte Art tutorials with Faema E71 and try it too!
SUNDAY NOVEMBER 1
(15:00 GMT + 1)
From our branch in France, the coffee specialist Pierre Murcia will experiment Terres de café blends and single origins through cupping sessions and espresso extractions with Faema E71E.
Click here to sign up: https://www.globalcoffeefestival.com/tickets