News Detail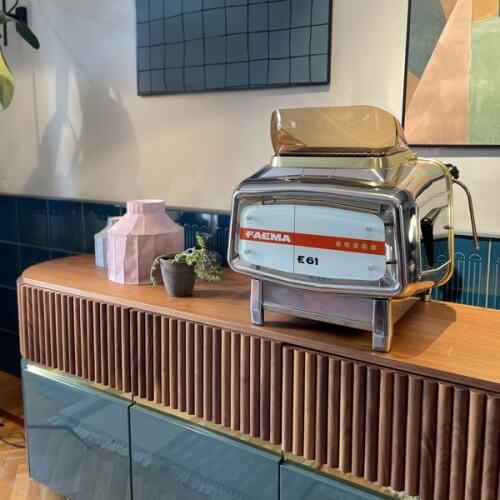 HOME
Milan - 17.05.2021
Faema finds a new home at "Archiproducts Milano 2021"
Faema's iconic design has found a new home at Archiproducts Milano 2021 – Future Habit(at) in via Tortona 31 in Milan. The exhibition that started in May, will last one year – from May 17th, 2021, until March 22nd, 2022. It is a dynamic ensemble of arts, design and technology, a dialogue in style and good taste conciliating innovation with digitalization and with new consumer habits emerged during the pandemic.
Faema arrives at Archiproducts' Design Center - one of the most important exhibition areas - created to host architects and interior designers seeking inspiration and new solutions. Among furniture, lighting solutions, bathrooms and kitchens, office and living solutions, as well as technology devices, our espresso machine stands out as a symbol of design, excellence and function: it is exhibited in order to foster creative processes and are ready to be purchased - in the showroom or from the on-line store.
Faema is joining over 60 other international brands at Archiproducts Milano 2021: a place to discover new furnishing, tech and décor trends - but not just that. The Cooperation between Faema and Archiproducts starts from the desire to bring coffee machines into a new realm, giving interior designers the opportunity to get to know our best award-winning products, access digital contents - among which BIM (Building Information Modeling) and catalogues to flick through - and thus become brand ambassadors with their own projects.
Faema enters a new and challenging market, making the most of the new consumer habits emerged during the last year and a half. Among the latest trends we can find Home-Bars: a new routine, which started long before Covid-19, yet becoming increasingly stronger and fostering an exponential growth of the demand for home-bars during lockdown.
"In a post-pandemic world, where the boundary between home and workspace has blurred, interior design defines "the new normal" and "future housing", where the keywords are technology and "cocoon spaces", i.e., new intimate spaces in common areas – explains Enrico Bracesco, Chief Commercial Officer of Gruppo Cimbali. People had to stay home and change their habits in terms of consumption, thus rediscovering, among other things, the pleasure of a home-made and tasted coffee. Enjoying a high-quality coffee in a cozy home environment, while devoting time and care to its preparation, is a ritual you will hardly give up. Keeping up with change is the purpose of our partnership with Archiproducts Milano 2021".
Faema E61 Legend: is the protagonist of the whole living area, the environment it was designed for. It perfectly fits in while standing out thanks to its iconic design.
Archiproducts Milano – in via Tortona 31, Milan - is open from Monday to Friday 9 a.m. - 6 p.m. by appointment.
Info and contact details: [email protected] +39 02 45481620