News Detail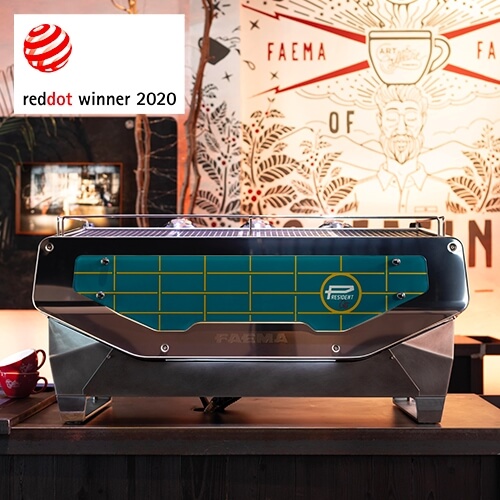 PROFESSIONAL
Binasco (Italy) - 30.03.2020
Faema President among the winners of the Red Dot Award: Product Design 2020
Faema President is among the recipients of the Red Dot Award: Product Design 2020, one of the world's most recognized design competitions.
Developed in partnership with the Industrial Division at Italdesign, a historic Italian industrial and automotive design company founded in Moncalieri (Turin) in 1968, the new model by Gruppo Cimbali's iconic brand is a reinterpretation of a quintessential '60s icon and has a unique style due to its innovative features, outstanding ergonomics and a broad scope of opportunities for customization.
Past and future are intertwined in this machine to create a sophisticated product that not only boasts exceptional quality and cutting-edge technology – which ensures high thermal stability and enhances the sensory profile of every coffee –, but also enhances any space it calls home with its updated design and timeless style.
The model features numerous solutions designed to simplify coffee specialists' maneuvers while also improving their performance: from the repositioned group heads, which makes allow for a more seamless working experience from steaming to espresso, to the ergonomic filter holders, the height-adjustable drip tray and the choice between displays with either a touchscreen or three or five button interfaces.
On 22 June Faema President will be exhibited alongside the other winning products in the "Design on stage" exhibition scheduled to be held at the Red Dot Design Museum in Essen. From this date, it will also be included in the online exhibition that can be viewed on the Red Dot website.
The new model by Gruppo Cimbali's brand will also be on display in the exhibition at the Faema Art & Caffeine flagship store, a meeting point as well as a training and creation centre for coffee specialists and lovers, located in the heart of Milan (Via Forcella 7). This space is devoted to sharing knowledge about the most beloved of daily rituals, cup after cup and blend after blend.